Blog
Tactical Weapon Mountable Lights
Police officers everywhere have touted the use of mountable tactical weapon lights. There are many reasons for using one of these tac lights, but safety is the biggest by far. Before weapon mounted lights, officers had to manage a flashlight and their weapon at one time. This is not a safe situation when trying to neutralize a suspect.
While there are quite a few brands of tactical weapon lights available, one stands out from the rest. That one is Hellfighter. Hellfighter flashlights are made to be handled separately or weapon mounted at the user's choice. All that is needed to attach the tactical light to the weapon is a mounting ring much like the ones used for rifle or shotgun scopes. It really is a simple thing to do on your own.
But police are not the only ones who can benefit from tactical weapon lights. Sportsmen, especially hunters, can use them as well in low light conditions. The use of these mounted lights has resulted in fewer accidents and hunting related deaths. Weapon mounted lights also provide for greater accuracy and aiming in pre-dawn dim light conditions.
Hellfighter flashlights are available in several mountable models; some 6 volt and some 12 volt. All are completely weapon mountable on demand. When it comes to quality, Hellfighter takes the prize. TheX-8 6 volt model emits a whopping 150 lumens which is a full 25% more than any competitor offers. Powered by two CR123A rechargeable lithium batteries that are included with the light.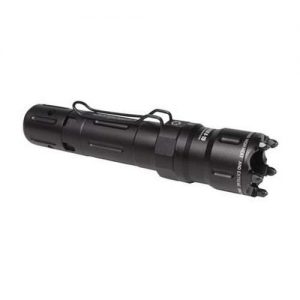 Then there is the Hellfighter HX19 9 volt tactical weapon light uses three of those same CR123A rechargeable batteries which are included. This Hellfighter flashlight more than doubles the output of the X8 at 350 lumens. The bulb is Xenon and the body is made of anodized aluminum for durability that is unbeatable. The HX19 is waterproof up to 100 feet, too, making it usable for diving personnel as well.
Hellfighter also has a 12 volt model, the X21 and an LED version, the X8 LED in 6 volt. All are made from anodized aluminum for extra durability and have outputs that are amazing and bright. The 12 volt X21 only takes standard batteries. The LED tactical weapon lights let you enjoy longer battery life as well as an almost unlimited bulb life. It is known that LED bulbs last 7 to 10 times longer than standard bulbs.
The Hellfighter tactical weapon lights are relatively inexpensive at between $60 and $180 or so, depending on the model you purchase. Whether you are a police officer looking to free up a hand for other work that needs to be done or a sportsman who wants to be safer in the woods, Hellfighter flashlights can fill the bill.
The last word on tactical weapon lights is Hellfighter. The safety factor is one that cannot be ignored whether law enforcement, personal shooter or hunter. Take a look at these tactical lights and see what Hellfighter brings to the table for you. You can gain accuracy, safety and confidence with Hellfighter tactical weapon lights.